Brenda Anne Sullivan
Brenda's career in ceramics started with a functional production line produced in her first studio gallery in Pointe Claire, Que. There she supplied individual collections, gift shops & corporate commissions; from The Bay in Montreal, to the McMichael gallery in Kleinberg. Brenda has participated in numerous juried shows in Canada, US and Britain is now represented by six galleries in Eastern Ontario including her own studio gallery Dragon Clay in Port Hope. Her work has been featured in newspapers and magazines and is often featured on posters for art shows including the One of a Kind in Toronto and Signatures in Ottawa. In 2010 her "Mad Hatter" teapot was accepted into the Kamm Teapot Foundation in the US.
She received her formal education in pottery with Rosalie Namer at MacDonald College in Montreal 1969-71, and continued with numerous workshops, conferences and courses. 2010 saw her acceptance into the artists' residency at Medalta in Medicine Hat.
Brenda's creations are based on natural elements that pre-date recorded history. Dragons, Mythology, and a touch of Art Nouveau are found in a variety of pieces that Brenda creates. She has both feet firmly planted in the ceramics world, one in funk-tional, the other in sculpture.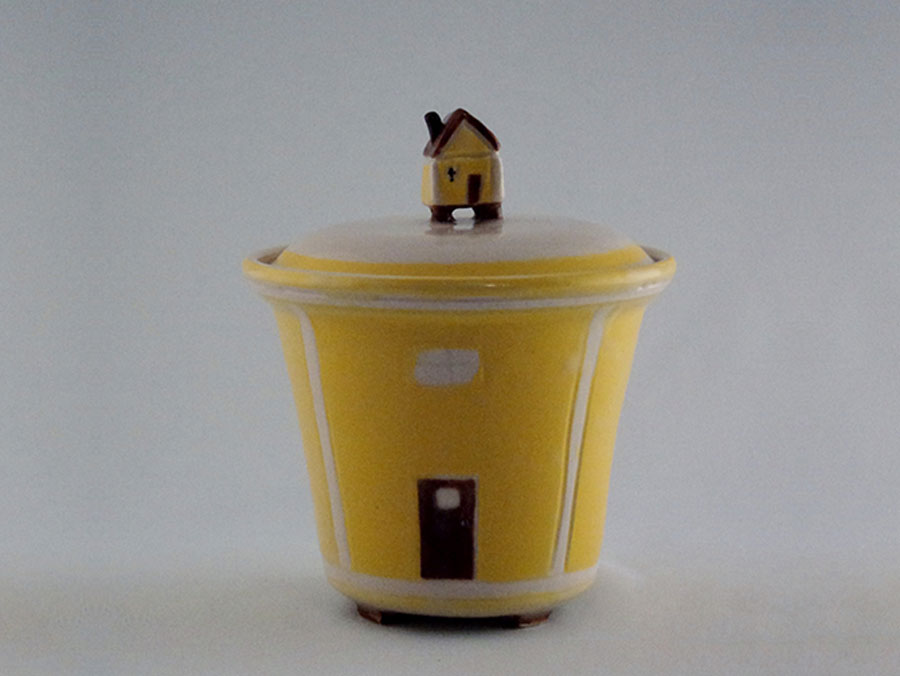 Her 10 year-old frog series was developed in preparation for talks on " inspirations" to local potters guilds. She spoke of her love of Art Nouveau, all creatures great and small, a quirky sense of humour and her love of theatre.
Brenda continues to expand her pieces, testing new forms and ideas. She will continue to grow her new series "Jelly Bean Row Pots" based on the colourful houses from her Newfoundland origins. Nature inspired sculptures are always on the horizon of possibilities.
Dragon Clay Productions Studio
81¾ Pine St. S, Port Hope.
Open Mon. to Sat. 10-5
Sun 12-4. (by appointment)
905-885-5384